Dear Lissy,
I have long admired the spirit of the women in the Mennonite community. This recipe is from the
Mennonite Girls Can Cook!
blog, one of my web "hot spots" for both inspiration and education. MGCC is one of the few sites devoted to feeding larger families with men who physically work hard all day long
and
has an entire section of recipes for feeding a crowd of thirty thrown in for good measure.
Mennonite Grilled Chicken is a deceptively simple recipe:
all of the ingredients develop
complex flavors when exposed to heat.
The whole is definitely greater than the sum of its parts!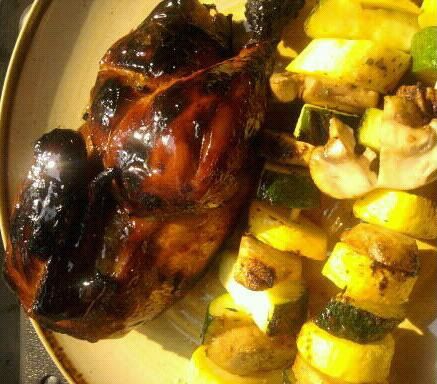 Mennonite Grilled Chicken
One whole roasting fresh chicken or
4 fresh chicken breasts with skin and bone-in, or back attached.
Honey Garlic Sauce
1/4 cup butter
1/4 cup brown sugar
1/4 cup honey
1/4 cup soy sauce
2 cloves garlic
Melt butter on low heat. Add sugar, honey, soy sauce and garlic.
Bring to a slow boil. Do not allow sauce to carmelize.
Lay the chicken bone side down on the grill on low heat. Close grill cover

Baste chicken with sauce frequently, until the crust is a light charcoal color and interior measures 165 degrees Fahrenheit

. If desired, flip chicken to make grill marks on top. Remove chicken from grill to platter, tent with foil, and allow to rest for 10 minutes before serving.
Cooking time: (45 minutes for bone-in breasts/ 11/2 hour for rotisserie whole chicken)
Mom's Notes:
I purchase pre-cooked rotisserie chickens from the deli case for $1.29/lb. These make a super quick meal when basted with sauce and reheated on the grill.

Leftover chicken makes a great chicken salad.

Make this recipe up with a dozen chicken legs and chill for a picnic treat.
Love to cook, cook to love!
Momma