Dear Lissy,
We finally celebrated Mother's Day yesterday, and it was worth the wait! I slept in until 10 (with you snuggled in beside me) while Dad & the boys went to Men's breakfast at church. After lingering over our breakfast we went for a long walk in the wooded trails behind the cemetery and came home to a big surprise: Dad got me a Jetboil Zip!!! Dad's not long on cards, or gift wrapping for that matter, but when the gift comes in an L.L. Bean bag, I'm not going to quibble over details.
The Jetboil in use. The parts pack
into the mug for travel.
This lightweight piece of kit has been on my wish list for years. We cook over an open fire when we camp, and we've gotten
really
good at it, but when I go on day hikes or solo backcountry camping trips it's nice to have a compact, easy to use system to make a quick hot drink or meal. Dad used some of his birthday money to get this for me, so it's extra special :-)
After I tested my new toy by making a cup of tea in under 2 minutes, we went on a family geocaching outing and found "Brent's Treasure". Nate was psyched to find a Utah geocoin we can drop in another cache. The owner of the coin is hoping to see it travel to all 50 states, so we may mail it to a friend stationed with the Coast Guard in Alaska.
The Jetboil site has almost a hundred recipes from the dreaded Chi-chi to a brand new (to us) breakfast food that I tried out tonight after church,
The Bobadilla
. I liked that these are easily eaten out-of-hand, which is important when we're trying to get out on the trail early and don't want to wash dishes. These were every bit as popular as the Ziploc omelets that we usually eat. I'll have to plan 2-3 each for the guys, but one each should be plenty for you and I, especially if we have fruit along. The other bonus? Both boys easily made their Bobadillas on their own.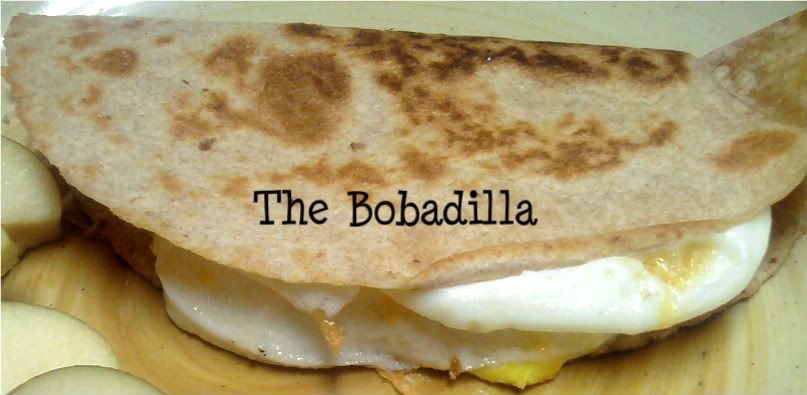 Breakfast Bobadilla
Serves 1
Wheat tortilla slightly smaller than your camp frying pan
1 egg (or 2 if using the 10" tortillas)
1-2 Tbsp.shredded cheese
Oil or butter
Salsa or ketchup, optional
Preheat pan and lightly grease.
Break egg(s) into pan, and break yolks. Place tortilla on top immediately.
When eggs have cooked through, carefully flip tortilla side down. Sprinkle cheese over eggs and place lid on pan.
After 20-30 seconds, remove lid, fold tortilla in half with spatula and remove from cooking pan.
Serve with ketchup or salsa packet if desired.
I would vastly prefer mine with sauteed veggies in the middle, which would only happen on a car camping trip.
It's imperative to try new camping recipes at home
!
I like to test them as a Sunday night supper since we've already had our big hot meal of the day and the boys aren't starving. If the recipe is a flop, we can salvage the night with nachos or bowls of cereal.
Keep your sunny side up,
Momma
P.S. The dreaded Chi Chi? Mix together 1 cup dry Ramen Noodles (no spice packet), 1 cup crushed Doritos, and a cut up Slim Jim. Add to 2 cups boiling water and let stand until soft. Boy Scouts, prisoners, college guys, and other desperadoes are the primary consumers of this gruesome dish. Matt, of course, is dying to try it.