Dear Lissy,
There will be many times in life when you have a friend who is struggling with a daily quiet time, or you are at loose ends yourself. When that time comes, reach for this book!
Mrs. Collier presents a very simple plan for reading through Psalms, and eventually other portions of the Bible, writing out verses under headings in a 3 ring notebook.
You ask yourself as you read each portion:
"What Do I Know About My God?"
Each time you answer the question with a simple statement like "
My God is in control
" or "
My God cares for me
". These become page headings under which the verses are written out.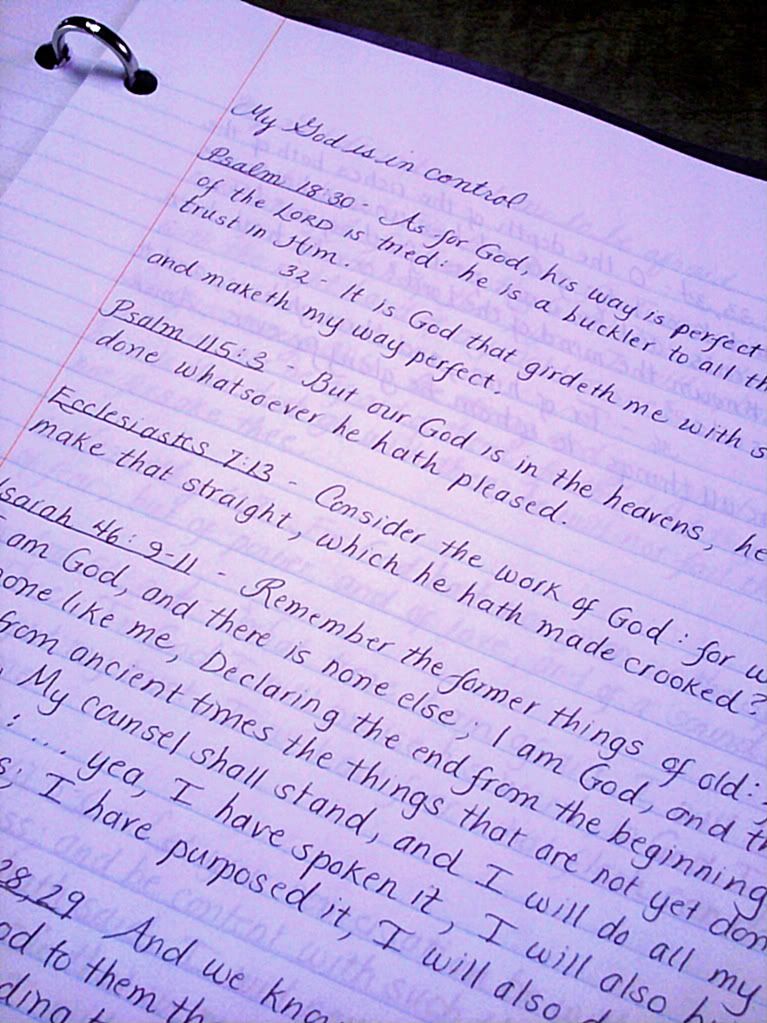 When you are facing a trial, you pick an attribute of God that meets that need, and meditate on the verses you have written. When you're sitting in the ER with your child, you might flip to "My God is in Control" and slowly read and meditate on those verses. If bills are pressing in on you, "My God Provides" contains many verses to quiet your soul.
The vast majority of the book is personal stories of times Mrs. Collier has used her own notebook to deal with trials the Lord has given her. She also includes a list of almost a hundred topic ideas & sample verses to get you started, and a
911 pack
you can print off or copy to give a friend going through a trial.
This method works equally well for new and mature believers. It costs almost nothing, especially if you use a notebook you already have on hand. You can teach her plan in a matter of minutes, and share your own notebook without sharing private heart thoughts...it's all simply Scripture.
WDIKAMG
makes a wonderful tool for a teens' or ladies' devotional or Sunday school class, too.
I pray that you learn the habit every time you are faced with a trial of asking "What do I know about my God?". I also pray that you learn to keep the same question in the forefront of your mind every time you're in the Word. This slim volume will make the way a little easier.
My God gave you to me,
Momma