Dear Lissy,
Some days you need a giant, chewy, knock-your-socks-off cookie studded with goodies. Other days you just want to fill the cookie jar to the brim without spending a third of your grocery budget. For those days, Lemony Snickets fit the bill. Crisp or soft and buttery-sweet with just a hint of lemon, the full recipe fills our gallon cookie jar and the fish stick decoy box in the freezer. (What? You never figured that out? Really? Well, now you know.)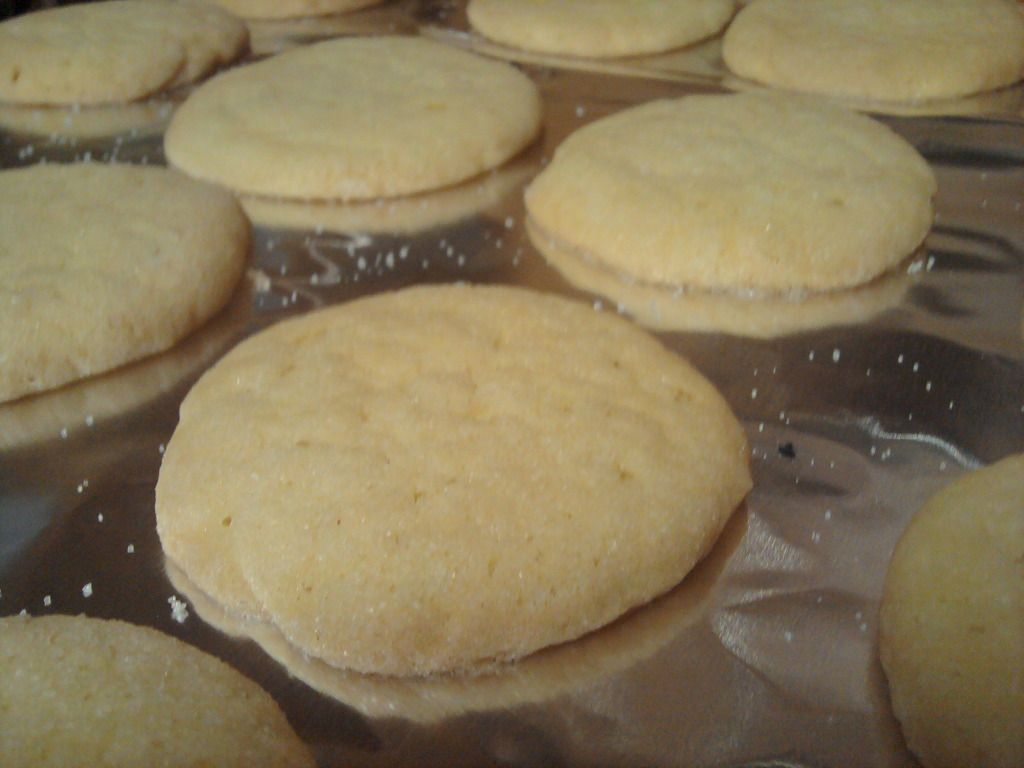 Soft Lemony Snickets, fresh out of the oven. I'd bake them to a deeper golden brown for crispy cookies.
7 dozen cookies if you can keep your digits out of the dough!
Preheat oven to 350 degrees F
Cream together:
1 cup margarine or butter, softened to room temperature
1 cup sugar
1 cup powdered sugar
1 cup oil
I find it easiest to cream the butter and sugars and then slowly add the oil in my stand mixer.
Mix in:
1 (3.4 oz) package Lemon Instant Pudding
2 eggs
1 tsp. vanilla
Sift together and then add to creamed mixture one cup at a time:
4 cups (1 lb, 1 oz) flour
1 tsp. baking soda
1 tsp. cream of tartar
No salt in recipe.
If the dough is too soft, refrigerate briefly to firm it up to "cookie" consistency. The dough will be very lemony, but the finished cookies only have a hint of lemon.
Scoop out dough with a Tbsp. measure, sugaring spoon occasionally to keep dough from sticking. Drop dough balls 2" apart on ungreased foil lined cookie sheets. Flatten balls with bottom of glass dipped in sugar to 1/4" thick discs. Bake for 12 - 15 minutes until golden brown. Cool for 1 minute on sheet, and remove to wire rack. Store in airtight container.
***Lemony Snickets can be transformed into classic NY black & whites by slightly underbaking and then dipping in half white chocolate, half dark chocolate when completely cool. ***
Warm from the oven, Snickets have a snickerdoodley softness, but they quickly crisp up into what my gram would have called a "tea" cookie. Either way, they're delicious. I've experimented with other flavors of pudding, and keep coming back to lemon. The cookies made with vanilla, butterscotch, and pistachio pudding were uninspiring, and those made with chocolate were a tease.
Lemony Snickets are also great "ministry cookies" if you have a deep freezer. The recipe makes weeks worth of Junior Church or Sunday School snacks, or just a nice treat for drop in company.
Love ya, Cookie!
Momma