Dear Lissy,
The raised garden beds are finally clear of snow, and the soil is warming rapidly. We're expecting a nor'easter on Friday, but Lord willing we'll be planting our spring crops in about 2 weeks.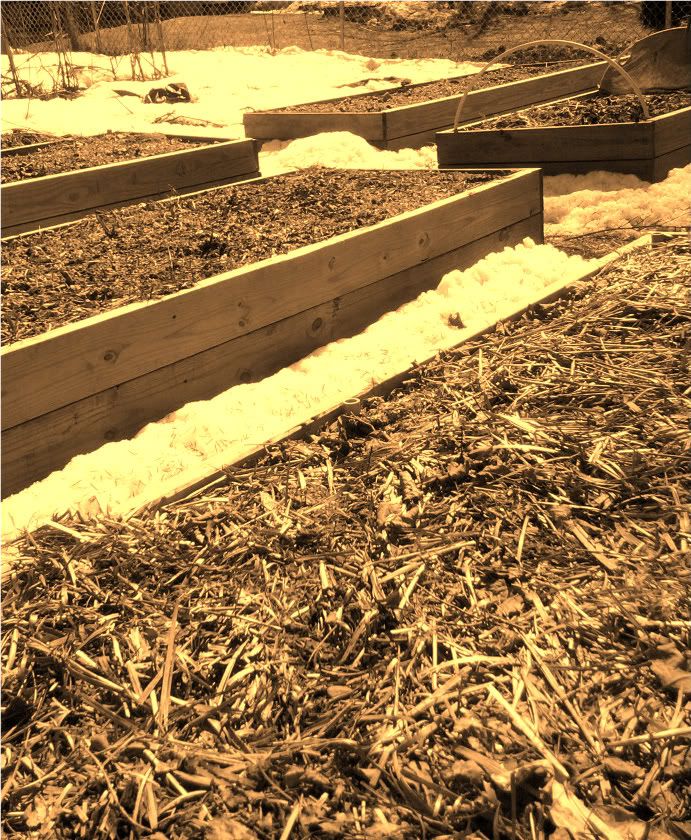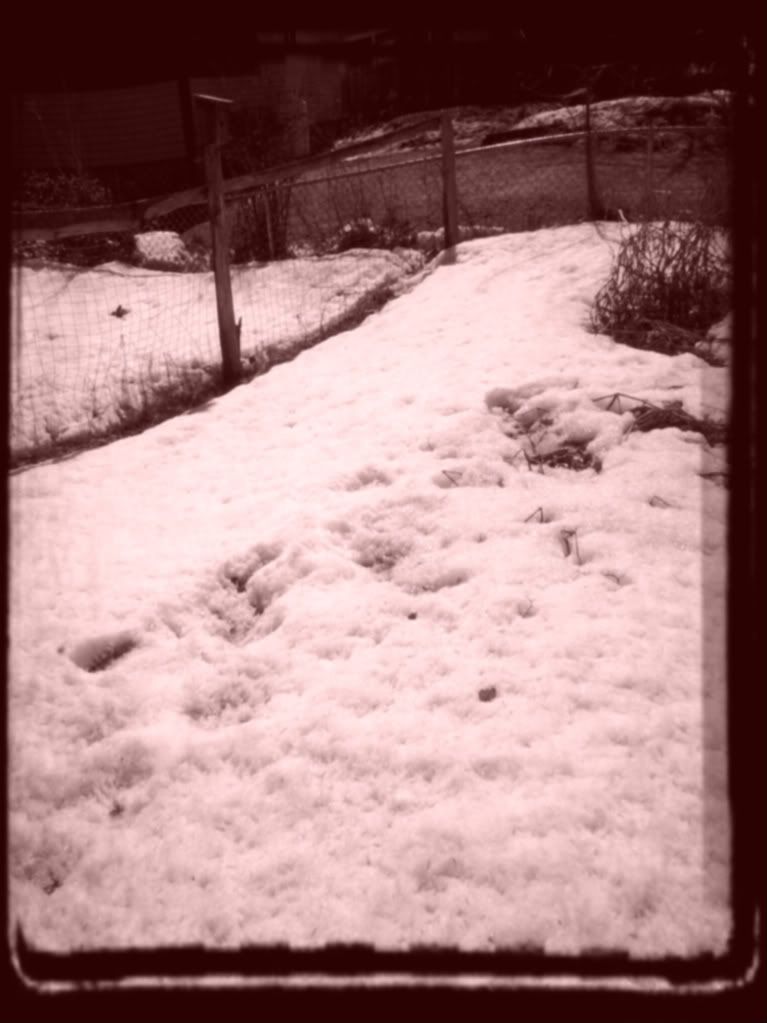 Our flat garden plot
The other side of the garden is under about 6 inches of snow, and the soil is still frozen solid. We'll be harvesting on the side with raised beds before we can even plant the flat plot.
When you first begin gardening at a new location, I highly recommend Square Foot Gardening by Mel Bartholomew. His methods will allow you to grow all the produce you can eat fresh with a minimum of fuss.
I
If you enjoy gardening and want to expand to a garden that can feed your family year round or provide extra produce for a farmer's market, you'll want to pick up The Vegetable Gardener's Bible.
I don't know what area of the country or world you'll be living in, so what works for me may be almost reversed for you, but some gardening wisdom is universal.
It's all about the soil No matter where you live, invest time and energy to make your soil the very best it can be. Homemade compost is quite literally "black gold". If you see lots of worms, you're headed in the right direction. Greensand is one of my favorite soil conditioners. Composted animal waste also adds valuable nutrients to the soil, but should be put on in the fall so it doesn't burn tender seedlings.
Invest in Raised Beds Even if you can only put in one per year, the benefits of raised beds are worth the time and expense. Just not having to rototill every year makes a huge difference to the health of your soil (and wallet!). In New England, the ease with which we can put hoop houses and cold frames over raised beds to warm or cool them allows us a much longer growing season. Raised beds self-regulate and allow for productive gardens during cool, rainy summers as well as hot, dry seasons.
Use Organic Methods Companion flowers, staggered plantings, crop rotation, neem oil, vegetable oil soap, growing vines vertically, cayenne pepper, and hand picking bugs are all methods that keep most diseases and bugs at bay.
The Best Fertilizer? The gardener's shadow. A few minutes a day keeps little problems from becoming big ones. If you keep your beds weed free daily, your plants aren't robbed of water and nutrients. Bugs and disease are relatively easy to stop when they first occur, too.
Heavy watering once or twice a week is best. Deep watering produces deep roots which in turn give the healthiest plant and best harvest. Use hay or companion plantings to keep the soil cool and moist at the base of the plant. Soaker hoses and watering wands allow you to keep the leaves of the plants dry and prevent fungus and insect invasions. The only exception is lettuces and corn, both of which have shallow root systems and need daily light watering in addition to their weekly watering.
Gardens get better as you grow. Properly cared for, each year the soil will be richer and better able to grow crops. You'll learn more each year, too. Don't be discouraged if your gardens don't produce as wonderfully as a friend's.
I hope you have many happy hours out in the sunshine caring for your gardens!
Keep growing in grace,
Mom