Dear Lissy,
Our heirloom rhubarb is the

first crop we harvest from our garden each year

,

.

This early season custard pie uses

rhubarb
and strawberry Jell-O for an economical treat. Serve it with whipped cream or ice cream and a cuppa strong coffee.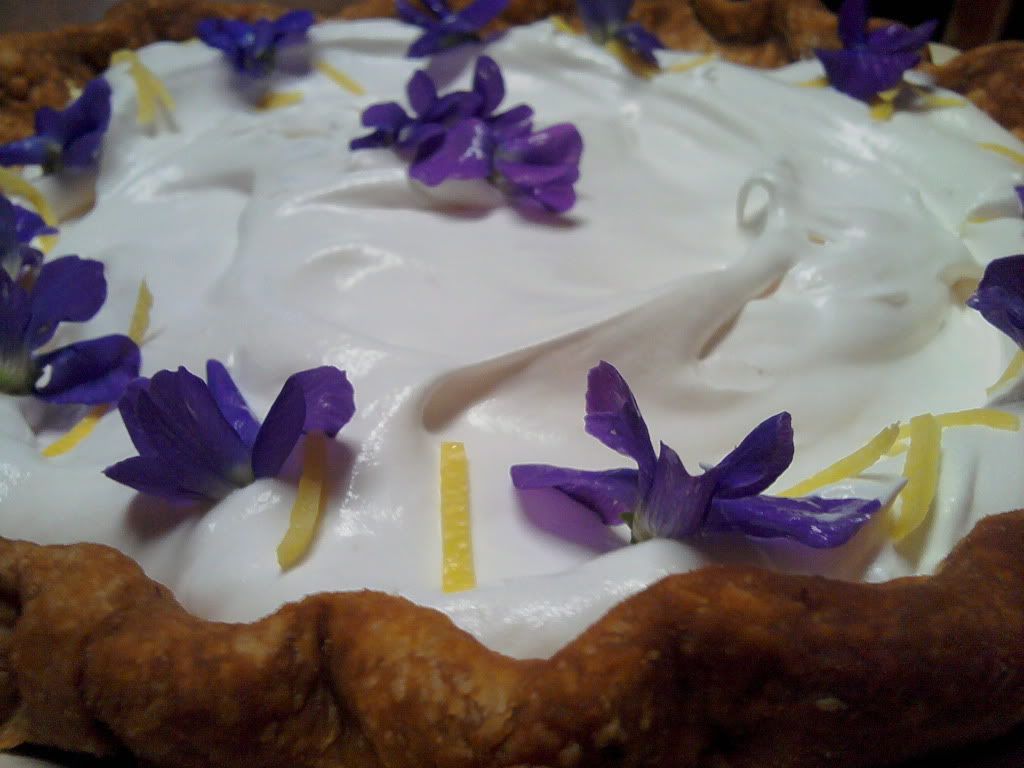 We garnished the pie with sp

ring violets and lemon zest today.
Pie Crust
1-1/2 cups (6-1/2 oz.) flour
Pinch salt
1/2 cup lard
3-4 Tbsp. cold water
Combine flour and salt in a large mixing bowl.
Cut in the lard until mixture resem

bles coarse crumbs.
Sp

rinkle in water a little at a time until the pastry holds together.
Shape into a b

all and chill for 30 minutes.
On a lightly floured surface roll the dough to about 1/8" thick. Transfer to a

9

" pie plate and flute the edges. Fill

and bake as directed.
Strawberry Jello Rhubarb Pie
from ManTested

Recipes.com
1-1/4 cup sugar
1 (3 oz) package stra

wberry Jell-O
1 unbaked pie shell (see above)
Preheat oven to 375 degrees F
Combine all ingredients in large mixing bowl. Pour into un

baked pie shell.
Use foil strips or pie shield to protect fluted portion of c

rust.
Bake for ~ 1 hour until bubbly and thick.

Re

move from oven and cool.
Serve warm with ice cream or room temp with whipped cream
This recipe was the closest I could find to the rhubarb pie Grammy Bea used to make for Daddy when he was little. He's been missing her a lot lately, and sometimes

a bit of nostalgia goes a long way.
Pucker up, Princess!
Momma
Linked up at Homestead Barn Hop #112