Dear Lissy,
Daddy's headed off to the mentor planning picnic for the robotics teams tonight. A potluck cookout with good friends calls for a bowl of potato salad and chocolate chip cookies. My 1950's era Betty Crocker cookbook states authoritatively that "
a good potato salad is the mark of a good cook.
" Whether or not that is true, this potato salad is fantastic. The potato cubes are marinated in a little French dressing before being dressed with mayonnaise.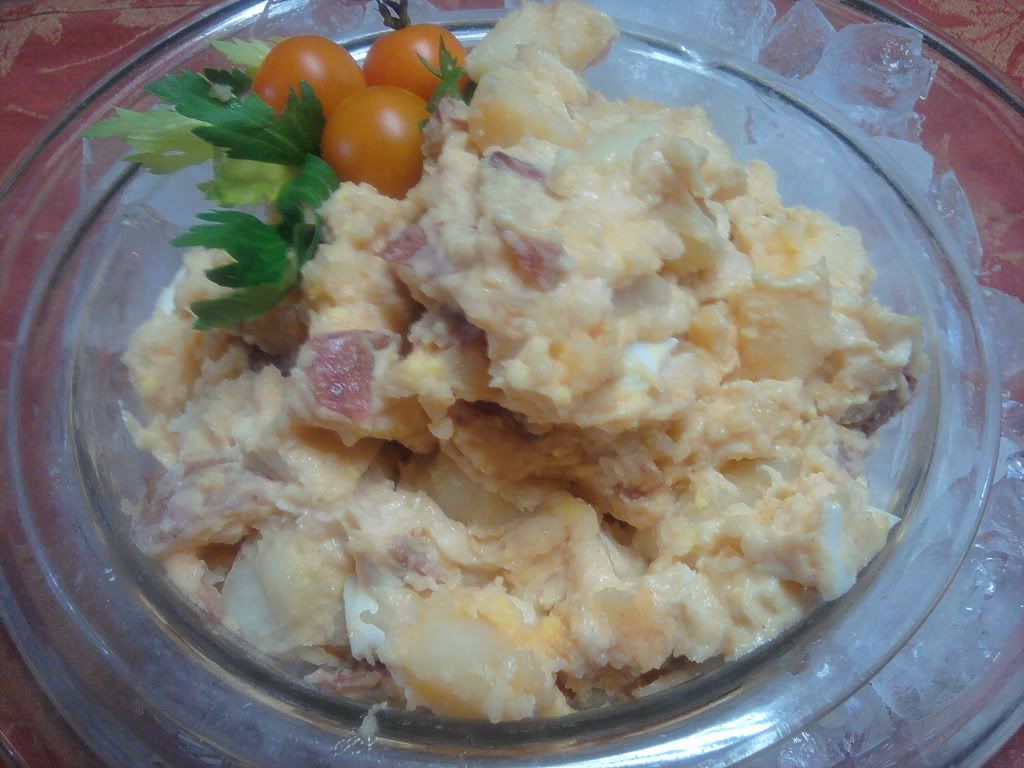 Mama's Potato Salad
Adapted from Betty Crocker's Picture Cookbook, first edition
Place in bowl. . .
3 cups cubed, cooked warm potatoes (see instructions below)
1 Tbsp. finely chopped onion or shallot, optional
Sprinkle with salt and pepper.
Mix lightly with . . .
1/4 cup French Dressing
Chill for an hour or two. Toss lightly with. . .
3/4 cup Hellman's mayonnaise. Heavy duty mayo in the gallon tub has better flavor and texture.
Blend in carefully. . .
2 chopped hard-boiled eggs
Turn salad into the smallest serving bowl of a nested set and chill until serving. Garnish with a sprinkle of paprika and fresh parsley or celery leaves. To serve, place ice chips in largest bowl of a nested set, and push potato salad bowl into ice. Invert the medium bowl or a plate over the top to keep flies off of food.
A few basic skills come in handy when making potato salad.
To cook potatoes. . .
Peel and cube raw red potatoes into 1/2" chunks. Place in single layer in steamer basket and steam until tender. Test with the tip of a paring knife for doneness. To make the recipe easier the next time you make it, record the time it takes in your steamer here: _____________ min. Potatoes can also be steamed in the microwave if you don't own a steamer.
French dressing:
Combine in shaker or mason jar. Shake well before using.
1/4 cup rice wine vinegar or lemon juice
3/4 cup light olive oil
1 tsp. salt
1 Tbsp. sugar
1 tsp. paprika
1 tsp. dry mustard
1/8 tsp. garlic powder
1/4 tsp. black pepper
To Hard-cook eggs. . .
Place week old eggs in single layer in bottom of saucepan (You might as well make a few extra for snacks while you're making up the two for the salad.)
Cover with cold tap water.
Place on cold burner and turn to medium high. Bring to a full boil.
Cover and remove from heat. Let sit for exactly 15 minutes. Drain.
Refill pan with cold tap water and let stand two minutes. Drain.
Shake pan vigorously to crack shells. Peel off shells under running water.
Love,
Momma