Dear Lissy,
Hot, hot, hot today! The car ate another starter coil over the weekend, so I'm *patiently* waiting for Daddy to get it fixed. I can't grocery shop, but a little butcher shop and a tiny market are within walking distance, so I'm making due. I decided to do oven fried chicken tonight even though it
trashes
the kitchen. I like to do this recipe in three stages, but it can be done all at once if you aren't home during the day. I prepare and marinate the chicken right after breakfast clean up. After lunch, I bread the chicken and pop the tray into the fridge until it's time to bake it off. This leaves very little clean-up after dinner when I'm tired, and makes dinner prep time much shorter, too.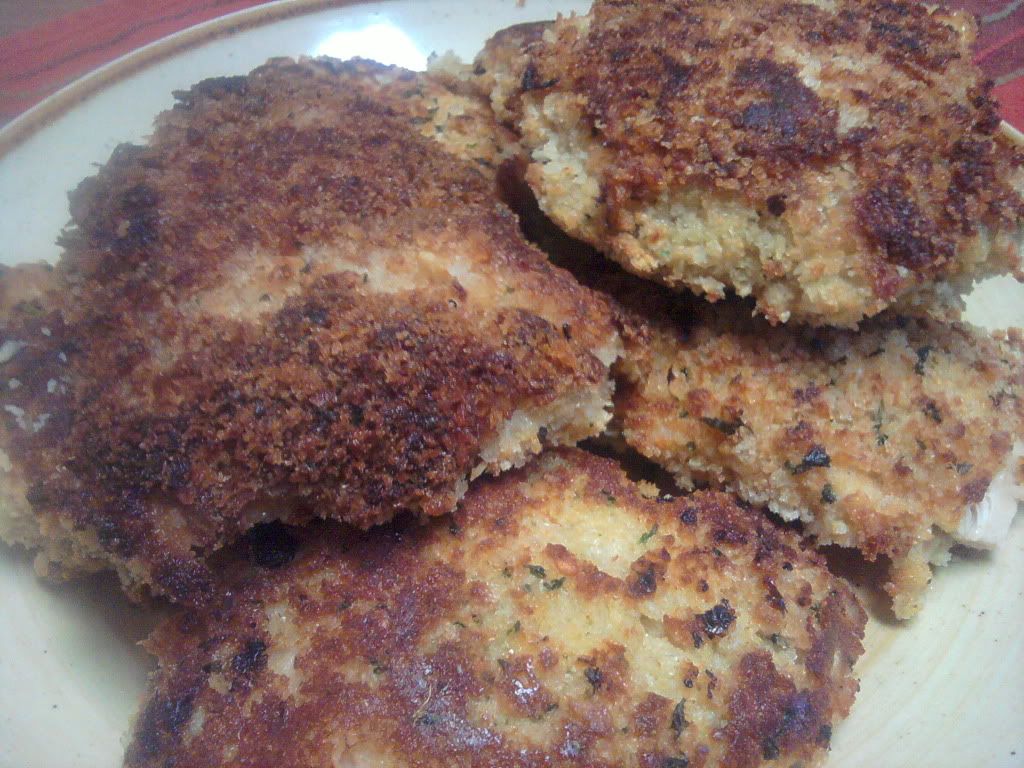 Prepare the chicken
The chicken breasts I get from the butcher look like they came off birdzilla. The whole two pounds of meat was only three breast portions. Meat that thick will take foreva to cook and get tough in the process.
Cut
2# boneless skinless chicken breasts

horizontally and pound them to 1/4 - 1/2 inch thick.

This may feel a little scary and weird at first. Press the chicken breast firmly against the cutting board, and use a

sharp

knife to carefully slice it horizontally into two pieces of equal thickness. Use the smooth side of a meat mallet to pound all the pieces to uniform thickness. I like to pop a piece of Saran wrap over the chicken while pounding to avoid splatters.
Secondly, cut the chicken into portions.
If you have little kids, cut the chicken up into nuggets or strips. For people who can wield a knife and fork, cut each portion into palm sized pieces.
Marinate the chicken in
buttermilk

for 2-3 hours.

Place all of the chicken into a ziploc bag and cover in buttermilk (1-2 cups). Refrigerate for 2-3 hours. This step is optional, but chicken breast can be tough on free range or larger birds.
Drain chicken and pat dry before breading. If the chicken isn't very dry, the coating will not stay on through cooking.


Prepare the breading
Station #1: Pie Plate
Combine:
3/4 cup flour
1 Tbsp paprika
2 tsp. granulated garlic
2 tsp. parsley
1 tsp Kosher salt
1 tsp freshly ground pepper
Place each dry chicken portion into the flour, and press firmly to coat it with seasoned flour. Flip and flour the other side.
Station #2: Mixing Bowl
Whisk together:
Pour in:
Mixture will become a thick, foamy texture.
Dip chicken in egg foam making sure it's thoroughly coated.
8 oz Italian Flavored Panko Bread Crumbs
Pour a layer of Panko (1/2 cup) in the center of the dish. Place the egg coated chicken portion onto the bed of crumbs, and sprinkle more panko over the top. Press hard to create a firm coating. Place breaded chicken on station 4, and shake plate to create another base of Panko for the next portion. You may have to add a bit more fresh Panko. It's fine to have lumps of egg/panko mix -- they'll flatten out when you press the Panko into the chicken.
Station #4: Cooling rack over a jelly roll pan
Place the breaded portions onto the rack until they go into the oven. The chicken needs at least 30 minutes to set the coating. The breading will adhere to the chicken better if the portions are breaded a couple of hours in advance. Cover with Saran and refrigerate until 30 minutes before cooking.
Baking Off
Pull the chicken from the fridge about 30 minutes before baking off.
Place an empty 1/2 sheet pan (or two rimmed jelly roll pans) into the cold oven and preheat to 400 degrees F.
When oven is at temperature, remove the pan(s) and pour 1/4 cup bacon drippings or lard into pan. Carefully tilt to coat bottom of pan. If you don't have a thick layer of drippings, add more. Oil will work in a pinch, but the chicken won't be as crispy. Return pans to oven for 1 - 2 minutes to bring up to temperature.
Carefully remove pans and place on heatproof surface. Quickly lay the chicken portions into the pan, leaving at least 1/2" between each portion of chicken. Pat down any breading that lifts.
Return chicken to oven and bake 7-10 minutes or until bottom is dark golden brown and crispy.
Remove pan from oven and place on heatproof surface. Using a thin, flexible metal spatula, flip each piece of chicken. The first few times I made this recipe I lost some of the coating. The quick, confident scrape and flip motion is a lot like making pancakes.
Return pan to oven for another 5-7 minutes until chicken is dark golden brown and crispy on the other side and chicken no longer has any pink in the center.
Remove from oven and let rest up to 10 minutes tented in foil. Serve warm with honey mustard or ranch.
Because this chicken is boneless and skinless, the coating will tend to lift off during cooking and flipping. To reduce the chances of a breading failure. . .

Make sure the chicken portions are patted completely dry before dredging in flour.
Let the chicken stand in the coating for a couple of hours before baking off.
The pans and oil need to be piping hot. Work quickly getting the raw portions onto the pan, and get it back into a 400 degree oven as soon as possible.
Use a thin, metal spatula and a quick confident "scrape and flip" motion. Only turn the portions once.
If chicken is going to sit after being cooked, transfer it to a wire rack so it doesn't get soggy.
Love ya, my little chickie,
Momma